By ann summers
Like a Mitch McConnell tortoise-hare race, #TrumpRussia moves like Time's Arrow.
PBO issued 16 ethics waivers in eight years. Trump has issued 16 ALREADY.
The war room needs more desperate measures as President Bannon tries to access Breitbart dark money and resources. Down the race course could be evidence of coordination between the 2016 data laundering and the money laundering operations of #TrumpRussia.
Trump tries for less desperate times as the Comey testimony next week looms. Time now to estimate launch angle as the All-Star break will bring some interesting testimony.
Who will be Biglygate's John Dean. Dean himself has opined that such a person would come from the WH Counsel's office, which of the 27 lawyers will be that patriot.
Trump told NBC's Lester Holt last week that he had planned to oust the FBI chief before U.S. Attorney Jeff Sessions recommended Comey's removal. That contradicted a White House statement that Trump acted based on Comey's mishandling of the FBI's Hillary Clinton private email-server investigation.

In the same NBC interview, Trump also claimed Comey told him that the FBI was not investigating him as part of the agency's probe into whether the president's associates colluded with the Russian government.

"I actually asked him" if I was under investigation, Trump told Holt, noting that he spoke with Comey once over dinner and twice by phone.

Legal experts said Trump's disclosures put into question whether his conversations with Comey are protected by presidential executive privilege, a legal doctrine that is not constitutionally guaranteed but that historically has protected a president's communications. Trump's public discussions of the Comey conversations may have opened the door for Congress to press Comey on what was said during his conversations with Trump, wrote Laurence H. Tribe, a professor of constitutional law at Harvard Law School in a Twitter post.
߷rump plays ethics like his golf vacations … with his short putts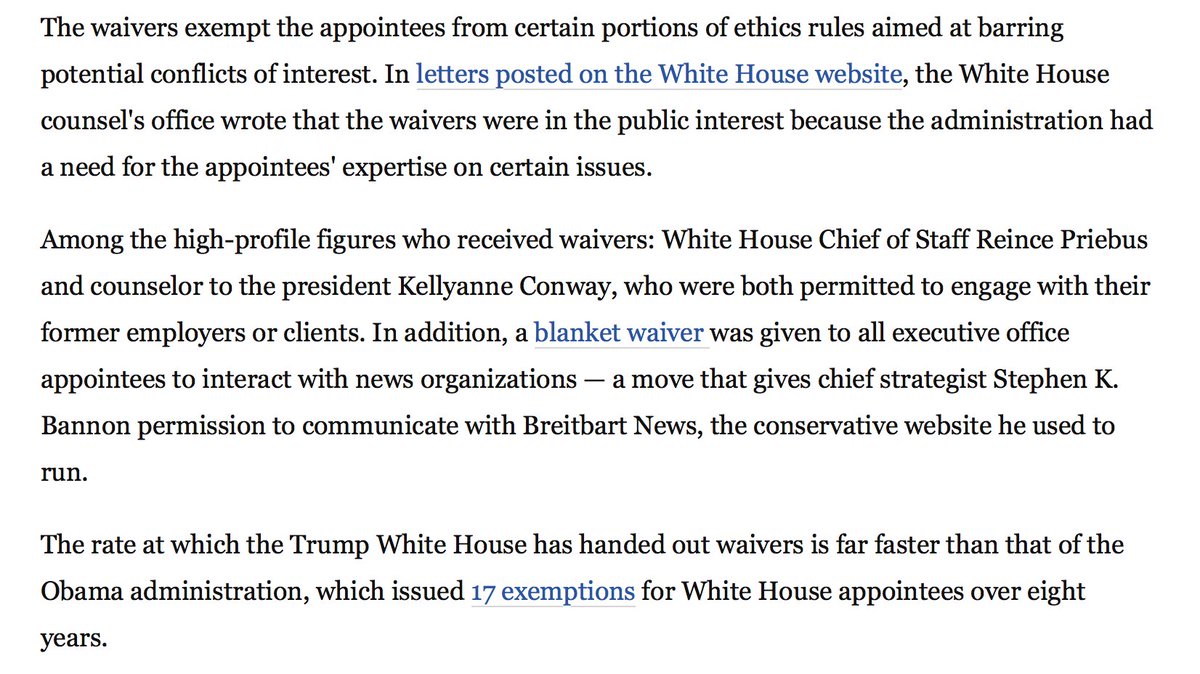 "If you need a retroactive waiver, you have violated a rule."-Director @OfficeGovEthics on @stevekbannon https://t.co/prmQmeGKB3 #ethics

— Sunlight Foundation (@SunFoundation) June 1, 2017