By ann summers
There is so much there, there … so much still not known, but what is known are money-laundering, data-laundering, and more recently verification of intention to disrupt the 2016 election with a preference for Trump. And then there's all the associated perjury and obstruction of justice. And every whining Trump tweet reminds us how screwed we all are, as Trump continues his malevolent regime change, bolstered by a crowd of sociopaths.
Clarity is elusive but many people can see justice if not truth somewhere amidst the smokescreens of Trumpian "truthful exaggeration". Means and ends, even if it's the professional courtesy of jumped sharks and drowning lawyers.
After all the Trumpers have given enough indication that they were putting forward their best efforts even in 2016 December, to lift the economic sanctions on Russia. Why would the Trumpers anger their electoral benefactors.
The coming months will be spent sorting out the real and imagined quid pro quos. Even if there was no collusion there was coordination and cooperation, even if indirect, and it will need to be seriously investigated for the coming years. Just as the past years of possible money laundering established a pattern of conduct that should have disqualified Trump.
This was a perfect storm for the GOP and the Russians, with the Brexit shenanigans as a test of the Russian active measures and their subsequent parallel motion with the GOP micro-targeting.
The same patrons worked together, including the Mercers and their Bannonist minions with the overlaps of all those banks, on and off-shore.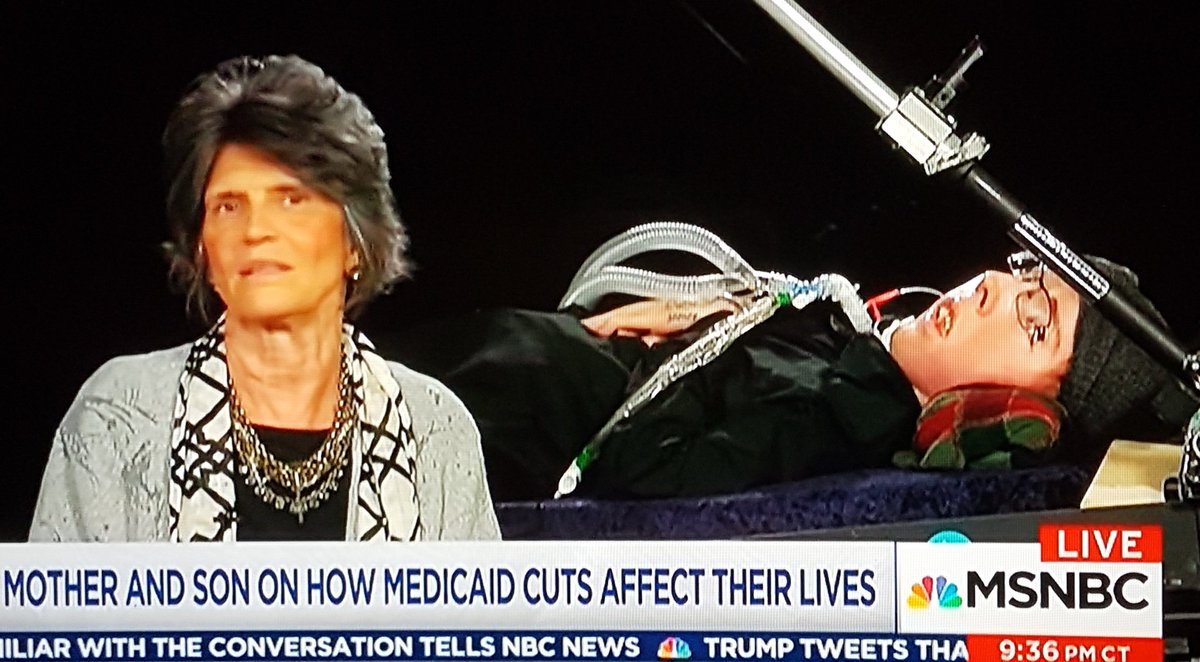 Other RWNJs found it easy to support the reactionary message of racism and sexism spread among the LIVs whose false consciousness continues as even their working class health care and their social security gets looted by the ruling class.
The signals began in earnest with the various RNC/GOP contacts, not even with Trump himself, but taking advantage of the GOP pwned by free corporate media for Trump throughout the primaries. Trump was a marketing profit center even if Trump steaks are always about sizzle, much like his illusory philanthropy.
Now it seems geopolitical and perversely dated, as though the Cold War returns, Trump screwing with a Cuba policy only to give "the commies" even greater influence. And "the cyber" part, it still is about profit first.
Even with Nixon, it was about a kind of realism, although for Trump it is a rationalized realism, going back to those salad days of Russian sex workers and a 1990 Playboy interview where he saw the US and Russia forging a global duopoly whose hegemony could be called "peace". A reminiscence that has been comfortable for Trump.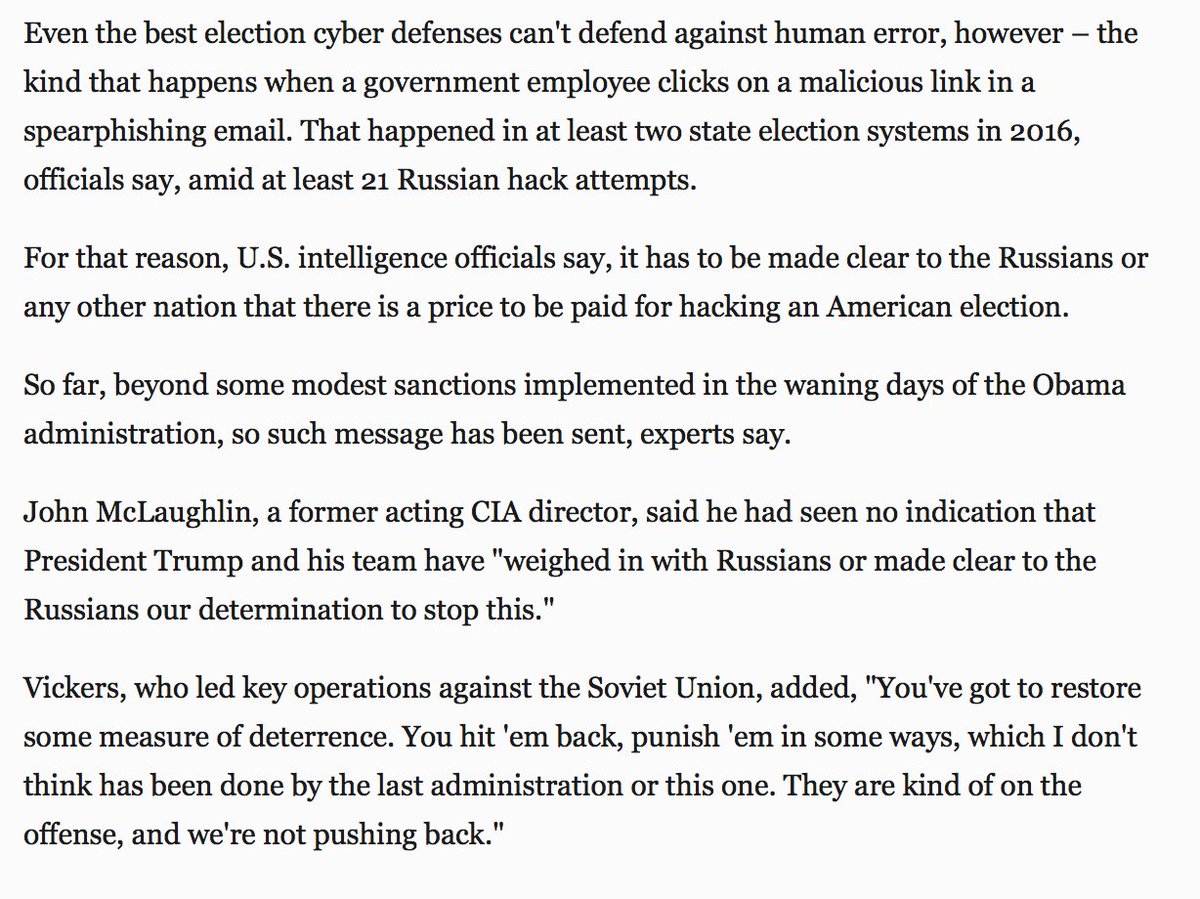 "There's two people I think Putin pays: Rohrabacher and Trump," Rep. Kevin McCarthy (R-Calif.) said, according to a recording of June 15, 2016
The cyber operation is still in its early stages and involves deploying "implants" in Russian networks deemed "important to the adversary and that would cause them pain and discomfort if they were disrupted," a former U.S. official said.

The implants were developed by the NSA and designed so that they could be triggered remotely as part of retaliatory cyber-strike in the face of Russian aggression, whether an attack on a power grid or interference in a future presidential race.

Officials familiar with the measures said that there was concern among some in the administration that the damage caused by the implants could be difficult to contain.

As a result, the administration requested a legal review, which concluded that the devices could be controlled well enough that their deployment would be considered "proportional" in varying scenarios of Russian provocation, a requirement under international law.

The operation was described as long-term, taking months to position the implants and requiring maintenance thereafter. Under the rules of covert action, Obama's signature was all that was necessary to set the operation in motion.

U.S. intelligence agencies do not need further approval from Trump, and officials said that he would have to issue a countermanding order to stop it. The officials said that they have seen no indication that Trump has done so.
On a trip to Moscow, Rep. Dana Rohrabacher met with a close Putin confidant and accepted documents from Russian prosecutors claiming Magnitsky wasn't a whistleblower, but a thief.

Back in Washington, Rohrabacher's senior aide escorted anti-Magnitsky lobbyists to meet other lawmakers and entered testimony endorsing Russia's version of events into the official congressional record.
Rep. Kevin McCarthy (R-Calif.) said, according to a recording of June 15, 2016 … "There's two people I think Putin pays: [Rep. Dana] Rohrabacher [R-Calif.] andTrump,"

Rohrabacher, for his part, says he was merely seeking to find the truth in an international dispute and to avoid gratuitously demonizing Russia.

"I get pushback whenever I'm asking for an honest assessment of a situation in which Russia is being vilified," he told POLITICO. "I don't know where this is all coming from but there's clearly a herculean effort to push us back into a cold war."

For Rohrabacher, who often boasts about having literally gone to Afghanistan and fought the Soviets alongside the Afghan mujahedeen, the role of pro-Russia congressman is a dramatic change. He was a White House speechwriter for President Ronald Reagan, and in the 1990s he famously arm-wrestled Putin, then a lowly deputy mayor, in a Washington dive bar…

The document, which is marked "Confidential" and was obtained by POLITICO, blamed Magnitsky and his employer, an American-born investor named Bill Browder, for orchestrating the tax fraud. The letter proposed that if more members of Congress followed Rohrabacher's lead in questioning the Magnitsky story, Russia would reconsider its ban on American adoptions, which Putin imposed in retaliation for the Magnitsky Act in 2012.

The document pointed Rohrabacher to supporting evidence in a New York court case. In 2013, federal prosecutors accused a Russian holding company of laundering $14 million stolen in the scheme that Magnitsky uncovered. The company's owner, Denis Katsyv, is the son of a former transport minister and business associate of Yakunin's.

Bill Browder, left, with Zhanna Nemtsova, daughter of murdered Russian opposition politician Boris Nemtsov, at the inaugural Sergei Magnitsky Human Rights Awards ceremony in London, Nov. 16, 2015.Dave Hadley / Holly Cant

In February, Katsyv and two other Russians formed a nonprofit organization in Delaware that purported to support restarting Russian adoptions and hired a lobbyist named Rinat Akhmetshin, lobbying and incorporation records show. Akhmetshin visited Rohrabacher's office in May on the day before the House Foreign Affairs Committee was scheduled to consider the new global human-rights bill named for Magnitsky.

(November 2016)
---
(March 2017)
Lawyer With Key Evidence In Russian Corruption Scandals Falls From Building Before Testifying

Curious things have happened to lawyers involved in a massive tax fraud investigation involving government officials in Russia. Sergei L. Magnitsky, the lawyer who initially uncovered the alleged fraud died in prison. This week, Nikolai Gorokhov, the lawyer representing Magnitsky's family, is recovering from serious injuries after falling out of a window in his Moscow apartment building. Gorokhov fell just one day before he was scheduled to appear in a Moscow court.

Gorokhov was retained in 2011 to represent Hermitage Capital Management founder William Browder, as well as Magnitsky's family. Browder, who founded Hermitage in 1996, was, at one point, considered the largest private foreign investor in Russia.

In 2007, Hermitage's Moscow office was raided on allegations of tax evasion despite a belief by the company that it had actually paid more than required.

Magnitsky, who was a lawyer as well as an auditor, was hired to find out what happened. Magnitsky came to believe that the tax fraud wasn't happening inside Hermitage but inside Russia's own government. He accused a wide network of police, judges, corporate owners, and the Russian mafia of contributing to, and in some instances, directing the fraud.

Magnitsky's accusations were not well-received, and eventually, he was accused of working with Browder to evade 522 million rubles ($16.3 million U.S.) in taxes. Magnitsky was thrown into a Moscow prison and died before his trial. He was just 37.

Magnitsky's cause of death was said to be acute heart failure and toxic shock, caused by untreated pancreatitis. Magnitsky's family says that he had been denied medical treatment while in prison, allegations that were confirmed by Russia's Presidential Human Rights Council, which also found that he had been tortured.

(You can read my previous story about Magnitsky here).

In 2012, in response to circumstances leading up to Magnitsky's death, the U.S. passed the Sergei Magnitsky Rule of Law Accountability Act which imposes financial and travel sanctions on those alleged to have committed human rights violations. Not everyone in Washington is a fan. In 2016, Rep. Dana Rohrabacher (R-CA), who had briefly been bandied as a potential candidate for Secretary of State under President Trump, proposed removing Magnitsky's name from the law. That didn't happen, and today, in addition to the U.S. law, there are a series of global Magnitsky laws…

It's easy to think about this series of events as if it was something out of Hollywood. It seems so out of touch with our reality. But these aren't characters in a movie. Magnitsky was a real person. He had a wife and children. "Sergei was a lawyer," Browder said, "like you." I admitted that was one of the reasons the case had resonated with me for so long.

 

The fact that we're still talking about a lawyer's death all of these years later is, he says, "remarkable." Magnitsky's work, he says, lives on because he had exposed the Kremlin's main money-stealing operation. Browder explained that the subsequent work – the series of Magnitsky laws around the world and tracing stolen money – has made things "extremely unpleasant" for Putin.

Magnitsky's legacy may just be the exposure of the entire Kremlin money-laundering pipeline in the West. Gorokhov was helping to continue that work.

---

Prevezon Holdings Ltd. said in an emailed statement that it agreed to settle the U.S. claims for less than 3 percent of the amount initially sought by the U.S. government. Acting Manhattan U.S. Attorney Joon Kim said the settlement amount was roughly 10 times the money that was allegedly traced directly into U.S. accounts and real estate.

"This settlement is nothing short of a victory for Prevezon," Faith Gay, a lawyer for the company, said in a phone interview. "It's almost an apology by the government."

The attempt to seize a lower Manhattan condominium acquired by the Russians and other assets began four years ago with then-Manhattan U.S. Attorney Preet Bharara filing the claim. Bharara was fired in March by President Donald Trump and Kim, Bharara's successor, announced the settlement late on Friday.

"The nearly $6 million represents three times the money that flowed to Prevezon from the Russian treasury fraud and more than 10 times the portion they invested in U.S. real estate," James Margolin, a spokesman for the Manhattan U.S. Attorney's office, said in a statement Saturday. "However they want to rationalize it, Prevezon agreed to give up multiples of the laundered money they brought into New York."

But this isn't the first time Trump has displayed a bizarre fealty to the Kremlin's line. To name just a few others:

(1) His campaign took a hands-off approach to the GOP's 2016 platform — except on the issue of American aid to Ukraine in its efforts to combat Russian intervention. On that score, Trump's team insisted on striking language about providing "lethal weapons" to the Ukranians.

(2) His administration looked into lifting sanctions on Russia for "absolutely nothing" within days of taking office.

(3) The White House has shown little interest in bucking GOP orthodoxy for the sake of upholding Trump's more idiosyncratic campaign stances — except on the issue of foreign policy toward Russia. At present, the administration is working to kill bipartisan legislation locking in sanctions against Moscow.

"So, it seems entirely possible that Trump isn't disputing the reality of Russian interference so as to satisfy the Kremlin, but rather, the demands of his own insatiable ego.

Which is to say: The president isn't necessarily beholden to a hostile foreign power — he could just be a conspiracy theorist with a severe personality disorder."
You do realize you just confessed that Russia meddled in the election you won, right? That you were the beneficiary of their act of war? (KO)