By ann summers
Many reports of the decline of Bannonism fill the news cycle if only to offset a Jared Kushner fashion faux-pas and to provide cover for the actual Nazis (Gorka) who are disinforming the onrushing #TrumpRussia investigations.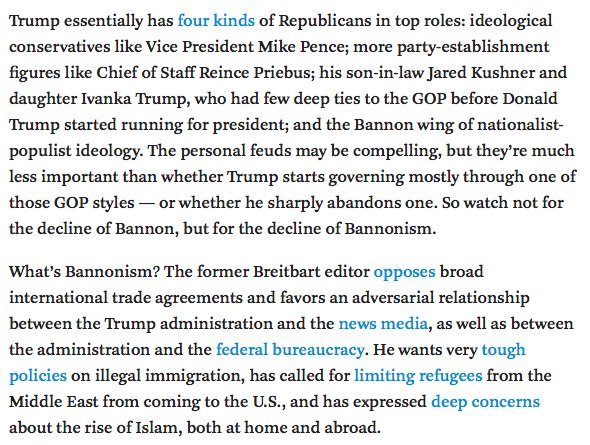 and Bannonism also has within it some tendencies toward anti-semitism, white-supremacy, and neo-naziism with connections to RW parties in the EU as well as Russia supernationalists
Trump Baku and the Iranian Revolutionary Guard … Business reporter Adam Davidson spent months investigating the Trump Hotel Baku deal, which the Trump Organization cut its ties with a month after Trump's election. In his detailed story for The New Yorker, Davidson writes that Trump did business with corrupt partners who also did business with Iran's Revolutionary Guard. This would be in violation of the Foreign Corrupt Practices Act. www.npr.org/…
Remind yourself that the prevailing Trump management style resembles a porous Thunderdome where reporting a victor is a media game not reflected in the actual struggles in the White House.
This week Ivanka's caring about Syrian babies obscures the numbers of civilians being killed, an offsetting MOAB strike on the under-publicized ISIS-K in Afghanistan, and an apparently empty threat against North Korea ignoring their ability to wage asymmetric war against Sinophobia.
---
Like Brangelina, will it be Jarvanka or Ivankred?
---
The swing to favoring Jared and Ivanka this week is what suffices for cyclical moments in the Strategy of Tension playing a commit/defect game with those conflicted Trumpists whose anti-semitism, xenophobia, and base racism were reflected in MSM and social media as #KeepBannon versus #FireKushner.


The Inside Story of the Kushner-Bannon Civil War https://t.co/45vcOfmN1F

— Ken Hanly (@northsunm35) April 17, 2017