By ann summers
Comparisons were always the way art historians developed arguments for analyzing by comparing formal qualities but also useful cultural resemblances that could make identifying the authenticity of a legitimate (collectible) artwork. Comparing films in the same way can be dicey if only because authorship might not be reducible to the vision of the auteur or even the will of the audience, but to the product's distribution and that elusive accounting category, the box-office.
With respect to these contradictions in characterizations, it's important to remember that in The Great Dictator, Charlie Chaplin plays both leading roles: a ruthless fascist dictator and a persecuted Jewish barber. Something to remind oneself when considering the biography of Agent Orange and his Art of the Deal.
So Woody Allen and Ai Weiwei comment on the human condition, in one case the alienation of the individual artist and in the other, the global refugee crisis, Ultimately the cinematic / media apparatus and its distributional mechanisms determine the artistic success rather than a calculus of demand and supply.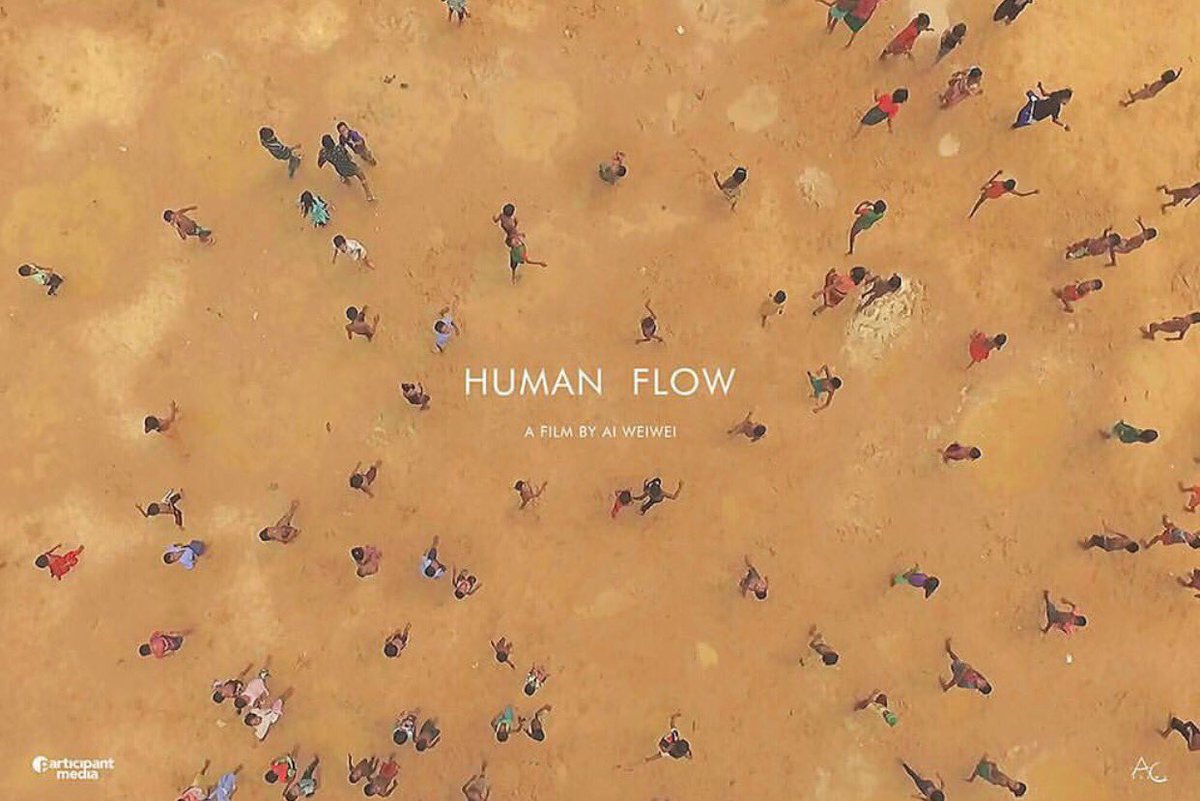 Human Flow is director and artist, Ai Weiwei's detailed and heartbreaking exploration into the global refugee crisis. 
On Saturday, Woody Allen's already buzzed about new movie "Wonder Wheel" will have its world premiere as the closing night selection of the 55th New York Film Festival…
While I used to like Woody Allen films, I also recognized how they were historically indulgent and often stylized versions of other genre films. This occurred particularly with those cinematic works that began to be reflective of his personal history (Zelig could be viewed as a critique of Warren Beatty's Reds and perhaps the loss of Diane Keaton), even as he denied in interviews the connection between his life and his scripts.

40. Anything Else (2003)In August 2009, Anything Else was cited by Quentin Tarantino as one of his favorite 20 films since 1992, when his career as a filmmaker began.[3]

The kids-killing-kids classic Battle Royale was number-one on the list, but it's the number-two film Tarantino revealed that's the real shocker.

That'd be the Woody Allen film Anything Else, or, as Tarantino helpfully puts it, "the Jason Biggs one."
Allen has yet to submit a film entitled "Will This Do?", but Anything Else comes closest, both in its title and for recycling old tropes about thwarted creativity and being stuck with a pesky, permanently difficult long-term girlfriend (Christina Ricci) who wants to move her mother in. Jason Biggs's character is meant to be an aspiring comedy writer, but Allen's script gives him not one funny line. All of these go to his aging intellectual mentor, a veritable fount of park-bench philosophical witticisms, played by guess who. Go on, have a guess.

I promised students of my class I'm gonna take them to the Caravaggio exhibit at the Metropolitan Museum. You know, I try to give them a little culture now and then so they don't beat each other to death with bicycle chains all the time.
Aside from Annie Hall and Manhattan, this film below is my Allen favorite even as so many dislike it… especially with the inserting of The Lovin' Spoonful. Then again I actually like his short story The Whore of Mensa.
On paper, it's a hoot: a Japanese spy movie called International Secret Police: Key of Keys (1965), which Allen overdubbed in English to feel something like an Austin Powers spoof. Weird moments connect: "That's Shepard Wong's gambling ship!" remarks one female character. "Oh, I hate him so very much. He's one of the seven worst people in the world." But there's something smirky, superior and naggingly problematic about the movie, like a giggling class joker making fun of the Asian kids.

Allen himself disowned it as "stupid and juvenile" after producers wrested it away and inserted concert performances by The Lovin' Spoonful.
Artists have that combination of the need to reaffirm what some would call an undeveloped ego especially as it relates to creative capital: the objects themselves and intangible assets like the creator's reputation.
The same elements remain… the need to establish patronage and/or an audience, and then there's all that careerism and its codependent parasite, celebrity. The artworld, for all its political involvements still are about its institutional asymmetries of race, class, and gender.
When you think that art is superfluous, remember that President Trump joked that North Korea's threats to attack Guam would help boost tourism to the U.S. territory
…the obsession with the most narcissistic expression of the individual started to take center stage. It points to the apparently unstoppable merging of art with a new form of celebrity culture, one in which individual self-expression has become an obsession above all other considerations.

[…]

They may look poles apart, but they're based on the same veneration of individual self-realization through self-expression in which it's the process, not the product, that matters. Everyone, just "being themselves" and claiming to be art. It's also why art shows are becoming experiences.

[…]

That's why, even though those Alpha male artists might make a big show of themselves (Jeff Koons naked with just the leather gloves on in the gym! Help!), they're way behind, stuck in the past. That's because they're from a generation that still thinks art should be about something other than me, here, right now. That art should be, say, about consumerism, or about the history of Germany, or even just about how massive huge chunks of Cor-Ten steel look when you stick them in a desert. In other words, about stuff you have to think about, maybe discuss, argue over with others, disagree about—something, which isn't entirely about yourself…
Similarly, all artists who do not kowtow to the state suffer the consequences of art being seen as superfluous, as though representation is always optional in a world without telepathy.
Ai Weiwei is like some artists like Michael Snow (Canada), Joseph Beuys (Germany), seen as national icons but certainly not seen as treasures, and often the opposite.
The recent AI Weiwei artwork includes a project in NYC and a recent film on the repression within the PRC that Ai Weiwei uses to demonstrate the repression of artistic freedom and more interestingly the arbitrary nature of law. And then there's the new film Human Flow, on the global refugee crises.
Art can be blasphemy and the equivalent of light pornography to some, but is often more of a social irritant rather than a social lubricant, perhaps the best sketches its relation to the State.
Upon entering the museum, visitors are immediately confronted with one of the new commissions, Forever bicycles (2015), which includes 1500 bicycles stacked in an optically dizzying wall formation. As the predominant form of transportation in China, bikes are a recurrent motif in Ai's work allowing him to explore the possibilities of readymades and Warholian repetition. However, the stagnantly stacked bicycles call into question the rate of social progression. The structure foreshadows the scale and themes of exhibition's subsequent works. www.whitewall.art/…