Breaking: it's the media's fault that Trump is uncivil while we're forgetting that last Friday, Michael Cohen's meeting today with the Senate Intel committee was "postponed" again probably because they knew Cohen would not cooperate. More importantly, it may signal how solid the Mueller evidence related to Cohen might be.
Yet the GOP is still talking about HRC emails… again, even as pursuing it might actually dig a deeper hole for everyone involved in Biglygate.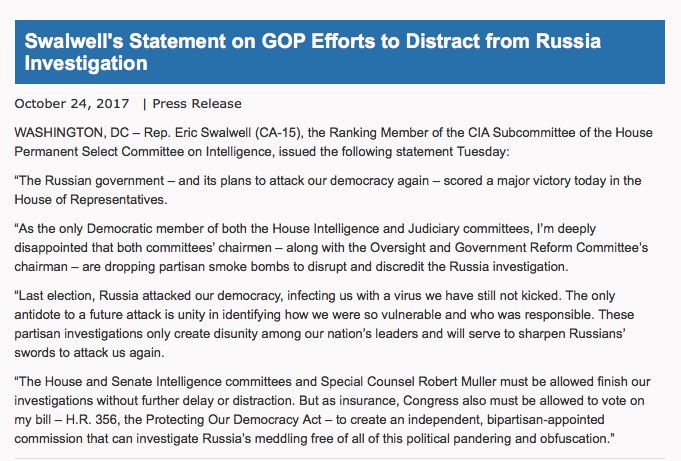 One of the new Clinton inquiries will revisit, yet again, the issue of Clinton's private emails during her time as secretary of state, and specifically how the Department of Justice handled that inquiry.

The other will address the 2010 sale of American uranium production capability to a Russian state-run energy conglomerate, and the Obama administration's approval of that sale — a supposed scandal that was debunked in 2015.

Both investigations smack of a deliberate attempt to move the focus away from Trump and his White House, which has been under non-stop investigative scrutiny this year, particularly surrounding the mountain of evidence pointing toward Russia's interference in the election on his behalf.
"Russia, if you're listening, I hope you'll be able to find the 30,000 emails that are missing," he said.

And on the campaign trail, Trump praised WikiLeaks and tweeted about its findings. Politifact calculated that he mentioned the site about 137 times during the campaign.

After publication, Assange provided this statement to The Daily Beast: "We can confirm an approach by Cambridge Analytica and can confirm that it was rejected by WikiLeaks."

Nobody has published the 33,000 emails that were deleted from the personal email server Hillary Clinton used while she was secretary of State.

"It's not at all clear that anybody hacked Clinton's emails or has them," said one of the sources familiar with the investigation.
Trump: "The press makes me more uncivil than I am. People don't understand..I went to an Ivy League college, I'm a very intelligent person."

but when you're a conservative Republican they try — oh, do they do a number — that's why I always start off: went to Wharton, was a good student, went there, went there, did this, built a fortune — you know I have to give my like credentials all the time, because we're a little disadvantaged. …"

Intelligence is a complex trait with many dimensions, but in general, one of the hallmarks of intelligent people is that they are frequently announcing to others that they are very smart.